Congratulations to all those who finished the Castles Half Marathon this past weekend, it was lovely to see you all.
After some shoddy weather the week before we had some good luck with Bamburgh as it was perfect running weather.
This popular road race is situated in the historic village of Bamburgh, with its Castle used as a stunning back drop.
The course consists of a loop of closed roads between the Bamburgh/North Sunderland - slightly undulating with lots of flat sections in the beautiful Northumberland countryside, with some views out to the Farne Islands and Holy Island and the North Sea.
The race saw over 400 people finish with a chip time and the atmosphere was palpable with lots of spectators at the finish line cheering on our runners.
Some stand outs from the male category were:
1st overall - Michael Stott who finished in 1:13:28
2nd overall - Ross Matheson who ran in 1:13:45
3rd overall - Robert Bee who ran in 1:14:46
All recieving crediton their accounts and a trophy.
In the Female Category:
1st overall - Alexandra Sneddon with a time of 1:26:58
2nd overall - Fiona Sim in 1:30:54
3rd overall - Helena Byles in 1:31:21
All Also reciving credit on their accounts and a trophy
Regardless of positions, all participants who finished got a medal and a T-Shirt.
All in all another successful Run Nation event, we can't wait to see you at the next one.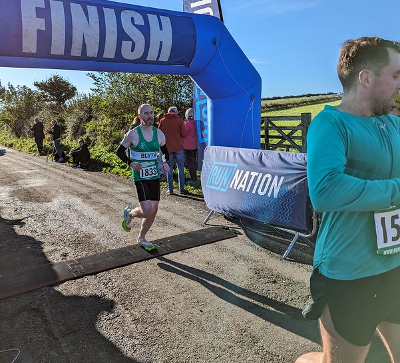 Special Mention to Ronhill Beanies for having a tent at another one of our events.